Dear First UU,
The start of this church year has been full of change! From Zoom to Hybrid. From a summer of low COVID cases to an uptick with Delta. RE moving outside. And Rev. Isabel leaving. Change is never easy, and often we need to take space to grieve a loss. But change also always brings new possibilities, once we are ready to look for them.
This year, a big change for our justice ministry has been shifting toward Share the Plate recipients that are also partner organizations of our Justice Action Ministry Focus Groups. Our aim is to better focus our efforts in Working for Justice, which is part of our mission as a community. So each month, as we take up a collection to share financially with these organizations, you will also hear about ways you can contribute your time, talents, and energy toward their work.
In September, we shared the plate with UU the Vote, a partner of our Democracy and Human Rights Focus Group. One way you can still get involved is to join the Democracy & Human Rights Action Hour on First Wednesdays, including this Wednesday, October 6 from 6-7pm ET. Learn more below!
In October, we will be sharing the plate with Single Payer Action Network of Ohio (SPAN), a partner of our Healthcare Focus Group that works toward healthcare for all. Later this month, we hope there are some new bills introduced at the state level that would improve healthcare access for many people in Ohio. Keep your ears peeled during our Share the Plate times to hear more about these bills and how you can raise your voice – or stop by the JAM table after the service to hear more from Alice Faryna, our Healthcare Focus Group leader.
Finally, a huge change is coming in my own life. My spouse Jim and I are expecting our first child sometime around his due date of October 7! Thanks to all of you who have shared your congratulations and support, especially through our baby shower last Sunday. I will soon be taking parental leave through January 4. As much as I love and am committed to my work at First UU Columbus, I will be taking parental leave as a sacred and special time apart from my paid work to adjust to a new member of my family and my new role as a parent. Once my leave begins, please contact Rev. Lynda Smith, our Justice Action Ministry Chair, or other lay leaders or staff (see below). Justice Update emails will be paused, but you can still find about about justice opportunities through Friday News emails, the Take Action page of our website, or our First UU Facebook Group. And of course, Rev. Marian will share an update, complete with name and pictures when baby "Hazelnut" is born!
Don't forget to keep scrolling down for additional justice updates, like the upcoming BREAD Listening Sessions!
Peace and love to you wherever you may be in this moment,
Amanda Hays
Justice Coordinator
amanda@firstuucolumbus.org
616-350-1409
---
Democracy & Human Rights Action Hour
---

October is all about the Vote!!
➔ Message the Redistricting Commission.
➔ Encourage Congress to pass The Freedom to Vote Act.
➔ Give ONE hour to learn about the issues, create a script and act.
➔ Leave voicemails, send emails, write  postcards, or post on reps' FB pages.
D&HR math: If 5 people make 30 calls, how many calls can 15 people make?
Action Hours planned for the first Wednesday of each month.
---
TAKE ACTION
---
Check out our "Take Action" page on First UU's website.  Just click on the "Justice" tab, then click "Take Action."
This is your one-stop location to find out about all the latest justice opportunities, be they 5 minutes, 3 hours, virtual, or in-person! Click here to check it out!
---
---
BREAD: Sign up for a Listening Session!
1.5 Hours, Virtual or In-Person
Part of how we build community as a church is through listening to each other about what deeply concerns us. Please sign up for a BREAD listening session to share your concerns, listen to others, and find out how you can make a difference!
There are 15 listening sessions available this year! Contact Alice Rathburn to sign up: eulala1905@me.com
Tues. Oct. 5, 7 PM – Chris Johnson (Zoom)
Wed. Oct. 6, 3:30 pm – Jessi Sadaka (Zoom)
Sun. Oct. 10, 11:30 am – Alice Rathburn (Church – Room 301)
Tues. Oct. 19, 7:00 pm – Alice Rathburn (Zoom)
---
BREAD: Mark Your Calendar Now!

5 min, Virtual
Plan to attend BREAD events for this year today!
BREAD Annual Assembly: Mon. Nov. 15, 7:00 pm
This is an event for all Justice Ministry Network members–to select 1 of the 3 major problems that came out of the Listening Process in all 41 BREAD congregations; updates of BREAD's ongoing issues, possibly including a report from a public official; election of officers
BREAD Research Kickoff: Mon. Dec. 6, 7:00 pm
This event is for Issue Committee members and anyone interested in learning more about BREAD's research or a particular research issue.
BREAD Rally: Monday, April 11, 2022, 7:00 p.m.
BREAD Nehemiah Action: Tuesday, May 10, 2022, 6:40 p.m.
BREAD Celebration & Investment Drive Kickoff: Monday, June 27, 2022, 7:00 p.m.
---
Eco-Justice: Trying to Get from Here to There – Transportation Fairness
Many Ohioans are kept from full participation in our communities because they lack access to a vehicle. Citizens will share their stories of attempting to use the existing transit options and how the lack of efficient public transportation is impacting their lives.
Developing a modern public transit system is essential for Ohio's future. From Ohio Statewide Transit Needs study in 2015. "In 2013, Ohio had the 14th highest transit ridership in the country with 115 million trips per year. By 2025, demand is expected to increase to more than 250 million trips. Demographic shifts contribute to increased need: An older population, increased poverty, and many millennials' preference for public transit over owning a car." Ohio ranks eighth lowest in the nation on spending for public transportation. Click for more info.
Join us as we discuss ways of encouraging our state and local government to plan and fund public transportation.
---
Eco-Justice: Ballot Issue 7
Before Nov 2
Learn more about Ballot Issue 7 before voting this fall. It sounds very similar to the Columbus Green Energy Initiative that was approved last November to provide 100% green energy to Columbus within 3 years, but it is a different initiative. Issue 7 appears to be a positive measure about "clean energy," but would have disconcertingly little oversight, and would remove money from other city programs. Click to read the text of the ballot on Ballotpedia and local journalism about the initiative in the Columbus Dispatch and Columbus Underground.
---
Food Insecurity: Pet Food + Undies Sundays
Anytime in October, In-Person, Outside
Donations of dry cat and dog food or children's underwear, all sizes. Pet food will go to Sedona Grace, our Share the Plate recipient for November.
You can also always donate food or other high-quality items you no longer need. Donations go to populations in Columbus and Athens county who have the most difficulty accessing food pantries and social services.
Drop off donations to Feed & Read Ohio outside Jacques's house, 617 Woodsfield Dr., Columbus, OH 43214.
---
Healthcare: Call our US Senators in support of the Women's Health Protection Act
10 Minutes – Virtual – Anytime
Senator Sherrod Brown: (614) 469-2083
Senator Rob Portman: (614) 469-6774
"On Friday, three weeks after the state of Texas passed the most extreme abortion ban in U.S. history, the House of Representatives passed the Women's Health Protection Act (WHPA)—federal legislation that would codify Roe v. Wade in law and establish the legal right to abortion in all 50 states under federal law.
First reintroduced on Tuesday, June 8, the WHPA guarantees a pregnant woman's right to access an abortion and protects the right of abortion providers to deliver these services free from medically unnecessary restrictions that interfere with a patient's individual choice or the provider-patient relationship."
---
Healthcare: Support National Nurses United's Campaign for Medicare for All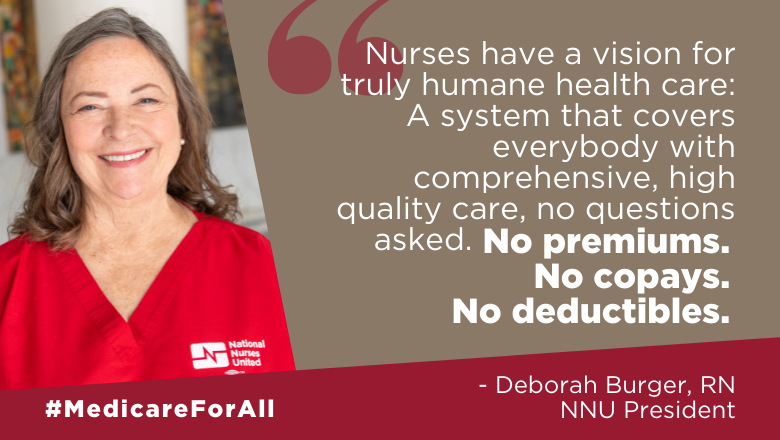 10 Minutes – Virtual – Anytime
Email or call (202-225-4324) our Congressperson Joyce Beatty to ask her to sponsor HR 1976.  It can be that short and sweet, but if you have a personal story about a problem with our healthcare system, by all means, please share that story. Click here for more info.
---
Racial Justice & Immigration: "A Shelter for Edith" Screening
Watch online on-demand between October 3 and October 31
Join Edith Espinal and directors Elisa Stone Leahy and Matthew Leahy for a screening of the New York Latino Film Festival documentary film "A Shelter For Edith," followed by a Q&A! Get your virtual ticket here!
On October 2, 2017, Edith entered Columbus Mennonite Church for what would be a 3 year and 4 month-long stay in sanctuary to resist detention from ICE and to stay united with her family in Columbus, Ohio, their home of more than 20 years. On February 18, 2021, Edith was finally allowed to leave sanctuary and return home with her family in Columbus. Directors Elisa Stone Leahy and Matthew Leahy's "A Shelter for Edith" visually documents Edith's journey from the beginning of sanctuary, through the Covid-19 pandemic, to her liberation from sanctuary this past year. On October 2, 2021, a day that for the past four years was the observance of another year in sanctuary, join Edith and the directors in celebrating her freedom." Suggested donation of $15 per household.
---
Racial Justice & Immigration: "Why White" and "I am White Like You Mom, Right?" Film Screenings
Saturday, October 16th from 1-4pm at St. Philip Episcopal Church
This event is sponsored by the Sacred Conversations Group, a collaboration of the Episcopal churches of St. Philip, St. Matthew, Saint Mark's, St. John's Worthington, and First UU. For more information, please see the flyer, or email Kathleen Fowler to get tickets.
---
Anti-Racist Allies: Articles by Dr. Kevin McGruder
Virtual – Anytime
Dr. Kevin McGruder, Associate Professor of History at Antioch College in Yellow Springs, did a wonderful presentation for First UU via Zoom on Saturday, September 25 about "How to Be and Antiracist in Ohio!" the Anti-Racist Allies group who asked Dr. McGruder to speak is looking forward to releasing the recording for any who missed it! The presentation was free, but donations support our church fund for Black, Indigenous, and People of Color who are members and friends of First UU to attend GA and other UU events.
Unfortunately, during the presentation, some white participants engaged in a microaggression, which is also in the recording. The Anti-Racist Allies group is taking some time to reflect on this situation and find a good way to post the video that can help us learn as a congregation from the experience and from Dr. McGruder's excellent content.
In the meantime, we can continue to engage with Dr. McGruder's work through his articles about systemic racism: